Tuesday, January 26, 2016
he got a haircut and new hair colour and now so did she...
cr: kmxstitch. ; she describes spiderman as her boyfriend in the article at lookin!
--
lmangla dec 9
does anyone know if she's always liked spiderman since before?
Because I know that you know that I know that we know that she liked the three eyed alien from toy story and stitch from lilo and stitch...
--
mikoshine dec 9
Friday, January 22, 2016
what is he up to?
cr: owner
caption: (okniverse): [PIC] d_soyou3 IG 택연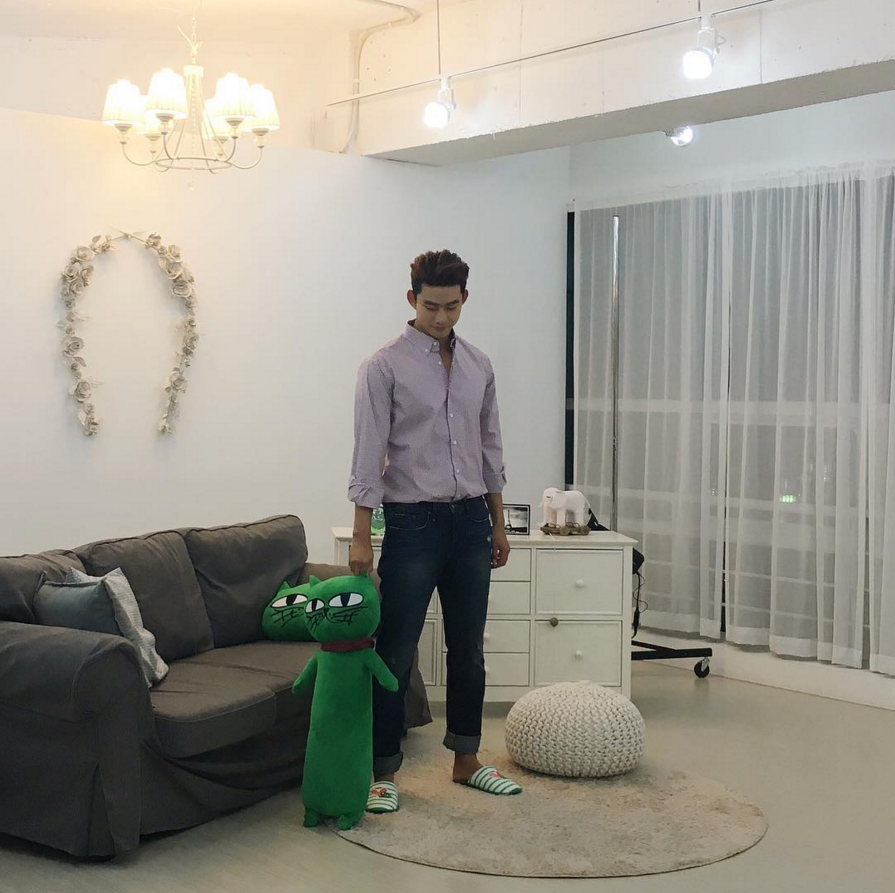 --
lmangla nov 25
Why is he grabbing poor OKCat by the gui? 
--
minwooluv78 nov 25
this is kind of funny because he arrived unfashionably early!!! hahaha...
Nov 18, 2015: 재영선배가 초대해주셔서 열정같은소리하고있네 보러왔는데... 저 편하게 보라구 배려를ㅋㅋㅋ 1등도착해서 아무도 없을때 찍었음ㅋㅋㅋ
(translation: 2pmalways): With Jaeyoung seobae's invitation came to watch "You Call It Passion"... The consideration to allow me watch it alone comfortablyㅋㅋㅋ
Actually took this while it was still empty because I arrived 1stㅋㅋㅋ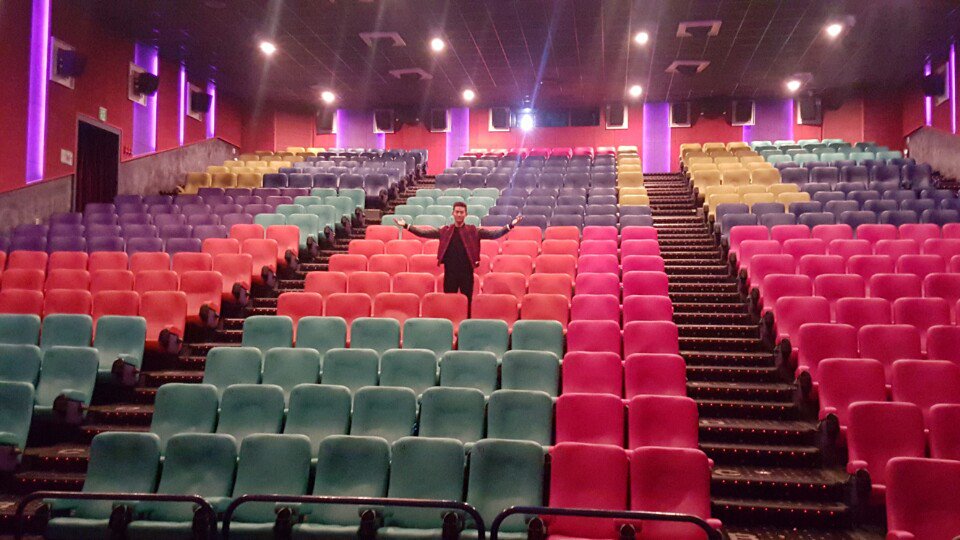 to read the full interview (2pm interview Baila Nov 2015), see
here
am finding this interesting.. wondering where he came up with these new thoughts on relationship. experience? watching others? or just growing up? what do folks make of this?
At this exact time they are flying through a nationwide tour of Japan (Tokyo, Osaka, Yokohama, Nagoya) that started on October 7, while their new single will drop on October 21. Including solo activities, Asia's No.1 Beast Idols, 2PM, are continuing their promising and lively activities, and today they will be a "boyfriend" only for you. Immediately before spotting you, we stealthily filmed the expressions and actions they made the moment they spotted you! Then what we talked about was "ideal type & ideal love." With each of their characters being visibly different, please persevere as well as you can through the heart-palpitating situation.
Soompi news on Taecyeon --
Taecyeon Pays Surprise Visit to Lee Hye Jung on "My Little Television"
by orionight, November 20, 2015
On the upcoming November 21 episode of "My Little Television," 2PM's Ok Taecyeon will be making a guest appearance on Lee Hye Jung's "Have You Eaten?" corner.
In the beginning of the episode, Ok Taecyeon calls from the set of "Three Meals a Day" to ask Lee Hye Jung for some advice. Then, he surprises her (and everyone else!) by showing up for the latter half of the episode.
Lee Hye Jung welcomes him, saying, "I hit the jackpot!" upon his arrival.
The episode will feature Lee Hye Jung showing

how to master the skills needed to make Chinese food

as well as making some homegrown favorites, including spicy japchae (a stirfry dish made with vegetables and glass noodles) and Mapa Tofu. It will air at 11:15 p.m. KST.
source: 
http://www.soompi.com/2015/11/20/taecyeon-pays-surprise-visit-to-lee-hye-jung-on-my-little-television/
For
@Lmangla
,
My "profound" thought (lol) on this? Or if I were to write a Hallmark greeting card with these pictures, I would write:
Though our life together goes round and round, our love safely encircles us.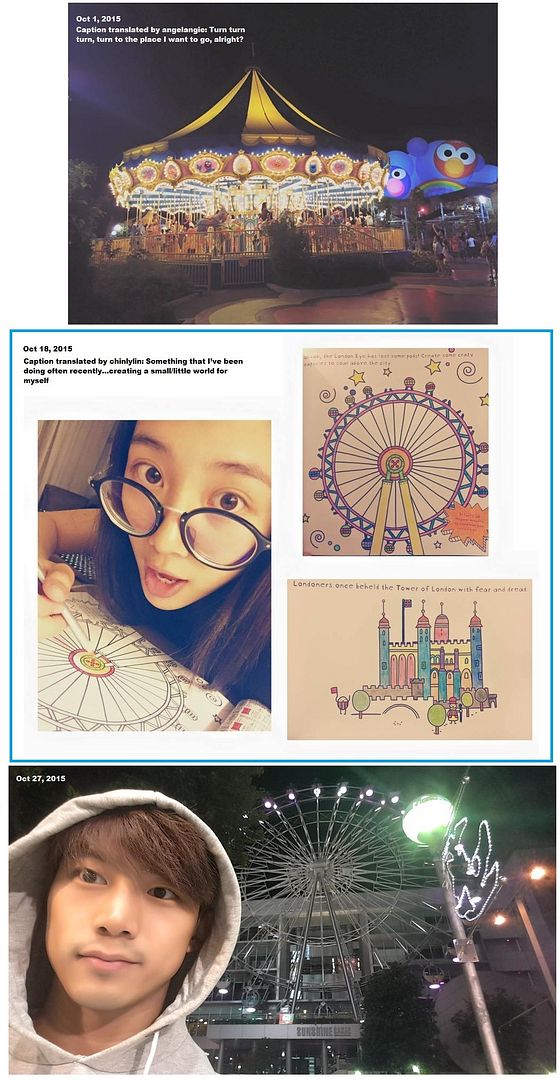 --
packmule3 nov 21
ref: http://taecgui.blogspot.com/2015/11/socmed-taec-and-ferris-wheel.html
Shuukan Josei - November 2015 - 2PM interview; to read full, see
here
cr: 2pmalways
Taec revealed his latest obsession. it wasn't really a surprise.
Taecyeon:
I'm the captive of Eddy, the dog I got recently, and my niece! My niece is 3 months old and it's super cute when she cries "ogya~." Eddy is potty-training. I bought a training book but Eddy has shown no results. I'm obsessed with cleaning up his messes (laugh).
this following bit made me laugh for a few reasons. first, it looks like the magazine was released on 3 November.
[2pmalways has it titled as 11/3 issue; so am assuming it is Nov 3]
Hey, @lmangla, I forgot to tell you about this connect-the-dot.  Or maybe I did... in one of the PMs (lol).
November 13, 2013, Guigui made the prank about being a couple with Edwin and OKCat came back with a crying OKCat about 4 hours later.
3:40pm
now this makes me curious...
ref:
https://taecguinews.wordpress.com/
Nov 11, 2015: she posts a link to ming weekly
http://www.mingweekly.com/article/view/4549?page=1
caption: 我也有孤寂的一面。
Translation: I also have a lonely side.
wait, what? why is she talking about lonely sides a day after taec lands in bolivia... what was the article about?? -- lmangla nov 12
TREE CLIMBING SKILLS.
--
packmule3 nov 13
is it delu me or did his "good morning" sound a lot like the way guigui says it??
(cr: ellekorea)
https://www.instagram.com/p/965q2vBpyp/
--
lmangla nov 12
As some of you may already know that I was on a trip with @PeggyW and @minwooluv to Taiwan and Korea. Well on probably the 3rd day in Korea, we went to Myeondong and that happened to be the first day 2pm were the new faces of the cosmetic brand Tony Moly. Well of course being the crazy ahjumma fan that I am of Taecgui and 2pm of course,kekekeke, we went in. For those who know me personally I am a huge supporter of Taecgui, I will try to buy whatever they endorse. I told the salesgirl that we were fans of Taec and I'm going to buy stuff just because they are their models. So after paying,  i think minwooluv asked if they were giving anything away that's 2pm related, she said to come back the next day cux they didn't have anything that day. So the three of us came back with my younger sister Cassidy who happens to be studying in Korea for the year. She gave us all posters of 2pm and 5 raffle tickets to be drawn for a fan signing they were holding November  5 in Korea.  Well guess WHAT, Cassidy was one of the lucky ones, she said there were like 300 fans but who cares, she got to meet Taec!!! She went to meet them cux she knows how crazy i am about taecgui! When she arrived, they were given color bands, she got green and we thought that oh that must be taec, nope it wasn't, she ended up  trading with another girl to get taec.
This is a pic with my sis and the salesgirl that helped us


Around 9:10
Question : Guigui, have you ever thought of contacting Ok Taecyeon?
GuiGui seem hesitate and doesn't want / afraid of saying too much out answered : Erm Quite busy but still got
keep up to date each other activities (
not sure I right on this part or not) Errr the shortest way to reply is errr....ermmmmmm...fell asleep hehe ait just, still know each other's situation - yeah everyone is busy - just write 'both also busy but...' both also busy then dot dot dot - let them think --
spicystrawberry nov 6