Monday, March 31, 2014
Our couple is a couple. We have evidence.
Proof 1. COUPLE HANDS! (Look, Ma! They have 10 fingers!!!! Omuhgeds!)
Proof 2. COUPLE
ugly
HAIRSTYLES!!!! (They're fated to be together!! They're cursed with the same hairdresser!)
Proof 3. COUPLE FRUITS (Who says you can't compare apples and oranges...errr lime?)
--
packmule3 march 9
Sunday, March 30, 2014
a short news on Gui Gui
cr: Yahoo News
「鬼鬼」吳映潔紅到韓國去 臉書粉絲數破126萬
Translations: Gui Gui (Wu Ying Jie) fames had reach to Korea, Facebook followers had hit over 1.26million
能夠殺到韓國,攜手男子團體2PM成員玉澤演來場世界版「我們結婚了」扮鬼澤夫妻,迷得韓國男性團團轉,紅到鬼鬼的「我們結婚了」重播不停,韓國男表白就愛鬼鬼這一味。
搞怪系美眉可真有兩把刷子,古靈精怪的個性早先在黑澀會群妹中就人氣直升,單飛之後似乎越來越萌,臉書粉絲數衝破126萬,完全憑實力。
(圖片來源:鬼鬼粉絲團)
Rough Translations: They had mention that somehow Gui Gui fame had reach into Korea too, and also stating that Gui Gui had somehow managed to charm Korea man too, and they are saying that Korean Guys actually like this types of girl who is cute and mischievous (is it true? lols)
They talk about how Gui Gui seems to be doing pretty well after going solo from HSHMM and all her success she had today is because she had works hard for it too
--
angelangie march 8
Moshida...........lols Taec on Kwave cover
--
angelangie march 4
a close up on Gui Gui by her loyal fan clubs lols....they sure did invest a good camera
cr: as tagged
Taec's expression if he gets a billion.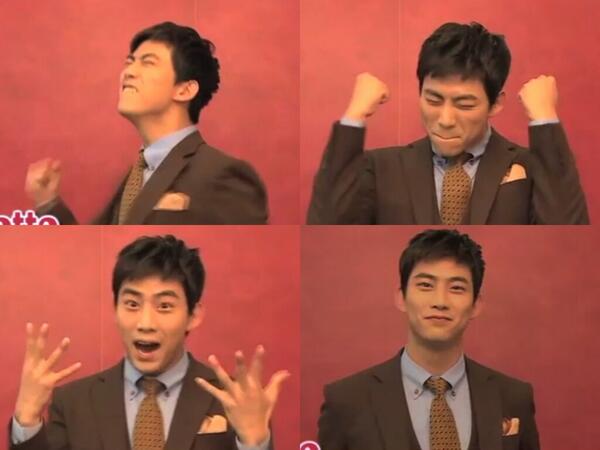 --
biruangel march 8
[from Japanese show HJM (Hottest Japan Mobile) ]
comment spam!



cr: b8l8
picture spam!



cr: b8l8
comment spam!



cr: b8l8
comment spam!



cr: b8l8
Compare & Contrast



Just as taec has changed (see above post by @packmule3), we on this ship have also changed.

initial reactions to all the posts

May-Oct 2013

:

Japanese variety show (Music Dragon) where the 2PM boys were asked who among them had plans of marrying. Taecyeon raised his hand nonchalantly, and shrugged his shoulders and made that "so-what?" face.


Compare and contrast.
I just want to point out that there's a big difference in behavior between a guy who's in an undecided and casual relationship, and a guy who's in a decided and settled and serious and committed...relationship. 
okcat's nervous plans... 
by packmule3
Baidu TaecGui did such good work on the pics, it needs to be posted
cr: Baidu TaecGui
Cr:Baidu Taecgui --
rose999 march 7
BTS -- the "I know you know chat"


Hey! Why did you suppress this picture, @angelangie? Were you worried that it would dampen our spirits? Heck no!
March 1: Taec is watching wonderful days ep 3
March 7: Okcat, its TGIF!
March 7 ~ okcat asks what is your special skill? okcat can do a upside down head stand..
2009 Taec interview ~ talks about okcat, 10/10 girl and dream proposal...
chatter: hasn't changed his views much...
Taec's twitter on Fri, Mar 7 at 11.03am (KST: 12.03pm) - Taec re-tweeted this ...
Caption
: Gladys said : waiting your selca in front of Osaka castle in 2015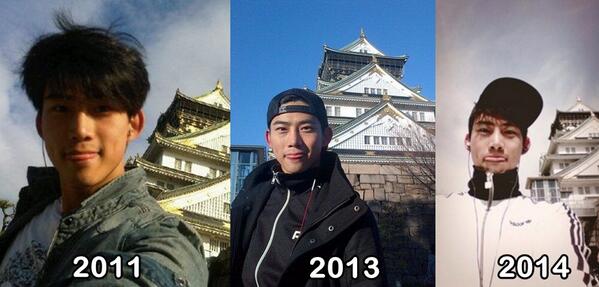 --
biruangel march 7
Found a funny tag from tumblr saying :
"This could be a smut in a fanfiction. Just saying"

Me: LOL    

(march 7) Taec is back to Korea today.
cr: as tagged
Sunday, March 23, 2014
Gui Gui updated her Facebook
7th March 2014 - 1.59pm (+8 GST)
Translations: Thanks Nike from City of Shoes
-- angelangie march 7
I'm posting cat and star combo since stars seems to be everywhere now a days
Caption: Always watching......Goodnight.
--
cannakat march 5
fan report from 2PM osaka tour -- Taec is poked fun at...
OkCat Twitter on Thu, Mar 6 at 11.18pm (KST: 12.18am)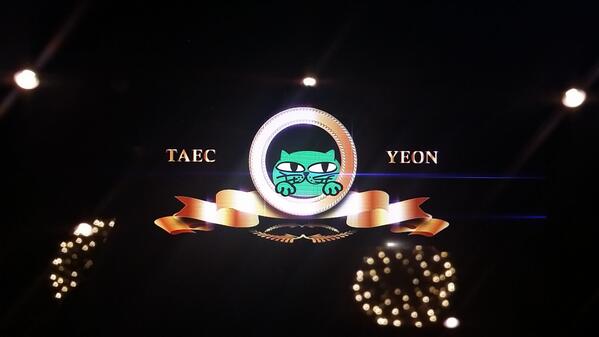 --
biruangel march 6
Photoshop from one of baidu poster......Taecgui.....HAPPIIIEEE....
--
labbit march 6
Filming of uri guigui today!!
with Aoquan~~

How do you feel, taec?!
Are we going to see OKCAT cry again?! -- lok2ming march 6
They greet each other at the beginning and at the end of the day ... 
Good morning, I'm going for breakfast.
Just in time Happy 1st Wedding Anniversary TaecYeon And Emma (Guigui) Wu. I don't have special computer ability to make GIF/MV/Pics, this is what I'm able to contribute:
#guigui "Today is the wedding day…2013.3.6 Glad to know you.Although you love to murmur…You will be happy." #taecyeon "Today is the wedding day 2013.3.6 From today to whenever it may be…Let us have fun and fill our memory with happiness." #taecgui #wgm
Cr: Gooland @ tumblr --
xybershock march 6
Taecgui.......Happy 1st Wedding Anniversary......Always happy.....always jump!Just saw this in baidu so I shared it here....this been sometime back in Jul 13....time stamp is all there. Fan asked Guigui, will you date with Taecyeon in real life?We are waiting for your yes and please reply..at least a hi...Then Guigui replied hiiii yes.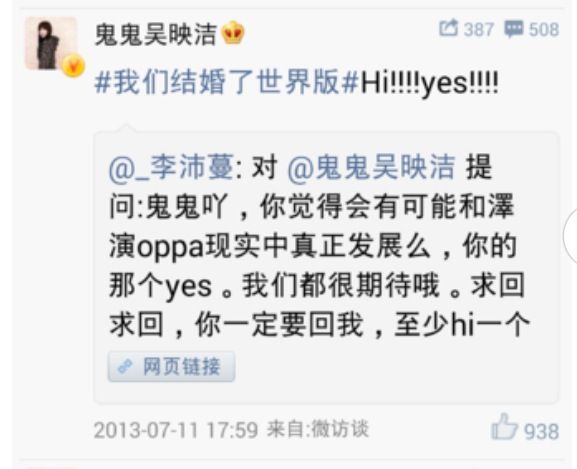 --
labbit march 6
Soon, instead of Skype dates and Facetime at 6PM, you'll only have to rush home to see each other at 6PM.
--
packmule3 march 6
March 6, 2014.
--
biruangel march 6