Saturday, August 31, 2013
....Just like her youtube links can be split into various categories: so, can these..
by Lmangla
Friday, August 30, 2013
Part 3: digging through GuiGui's FB -- these were the pictures that I remember we all got excited by, though some I cannot remember why..can someone remind me how this was connected to Taec? I know there was a "miss you" somewhere but guess it was uploaded on weibo perhaps? 
Thursday, August 29, 2013
Thank you China Times also MJ, let me wear a Mei Mei Mei Mei shot.
af
here's a pic of the whole cast and they are filming at JinMen..
af


oh well... she looks so happy to see her face in the convenience store... she gave a kiss on the pic... MUA!!!


here are some pics posted by gui gui...



Oct. 22, 2011
Shoot down the lake today, drink a lot of water! In fact, very exciting ...



Oct. 24, 2011
Morning.
asianfanatics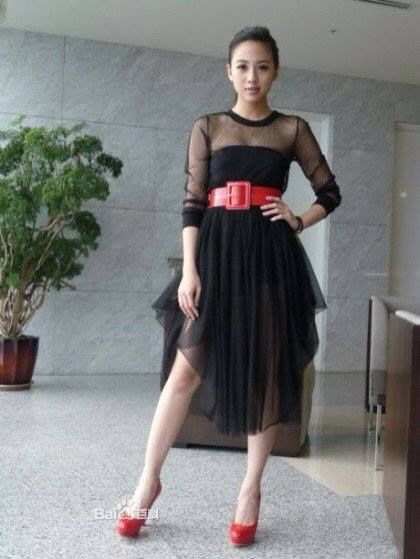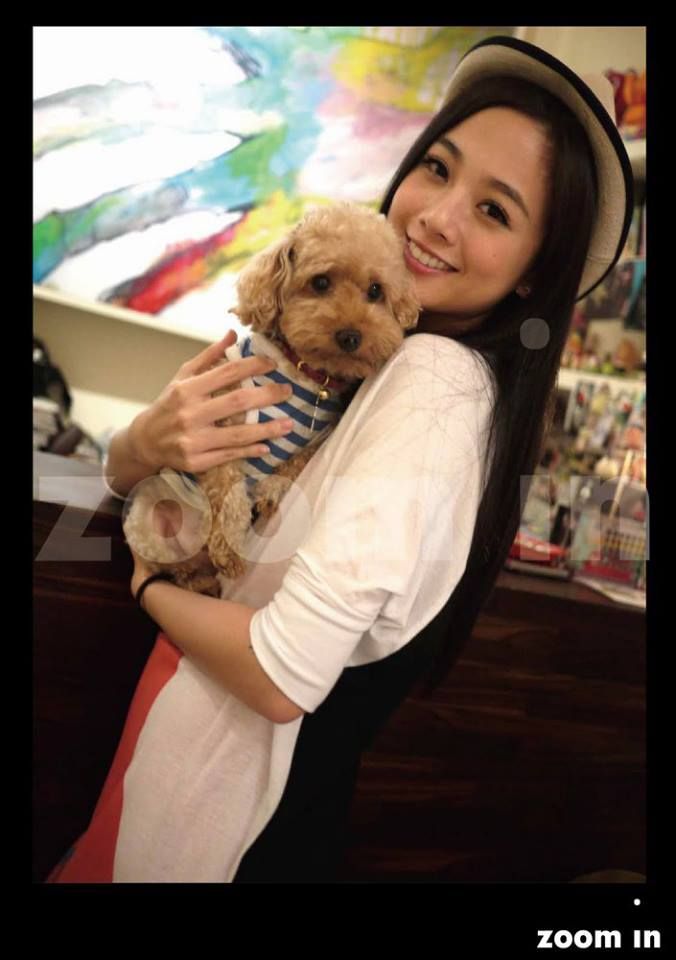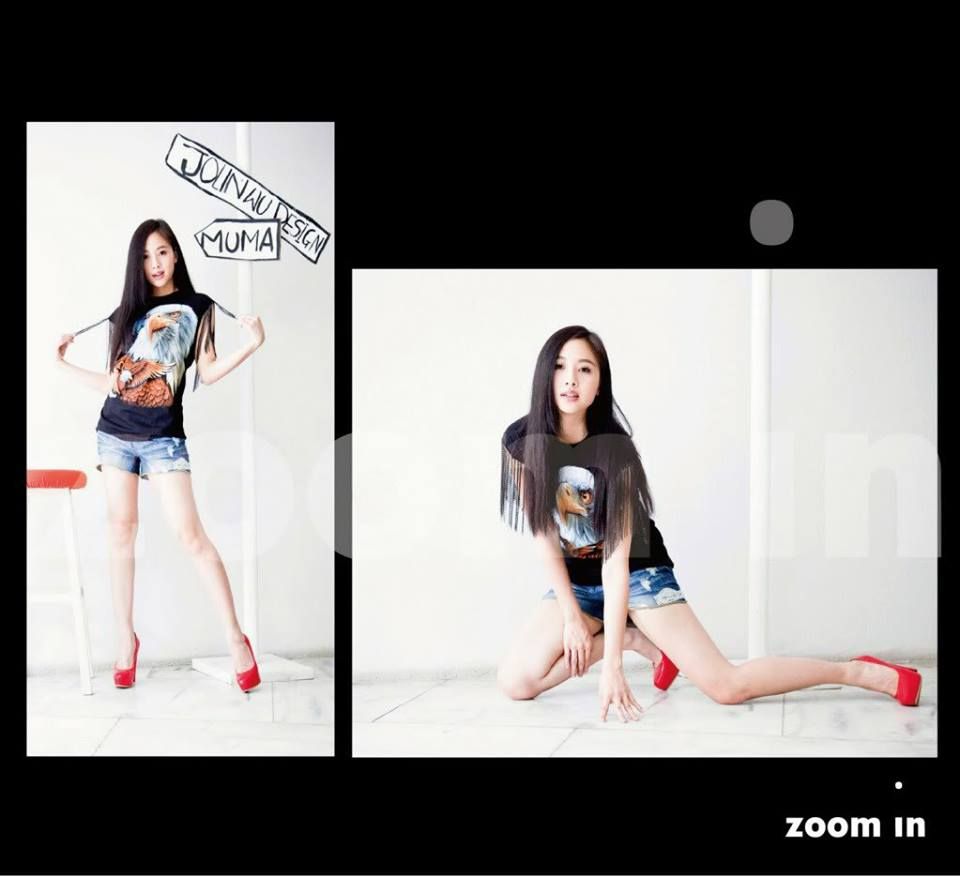 This image has been resized to fit in the page. Click to enlarge.
guigui buy a new house before and news about her ex relationship with G.Hu..(OLD NEWS, last year i think)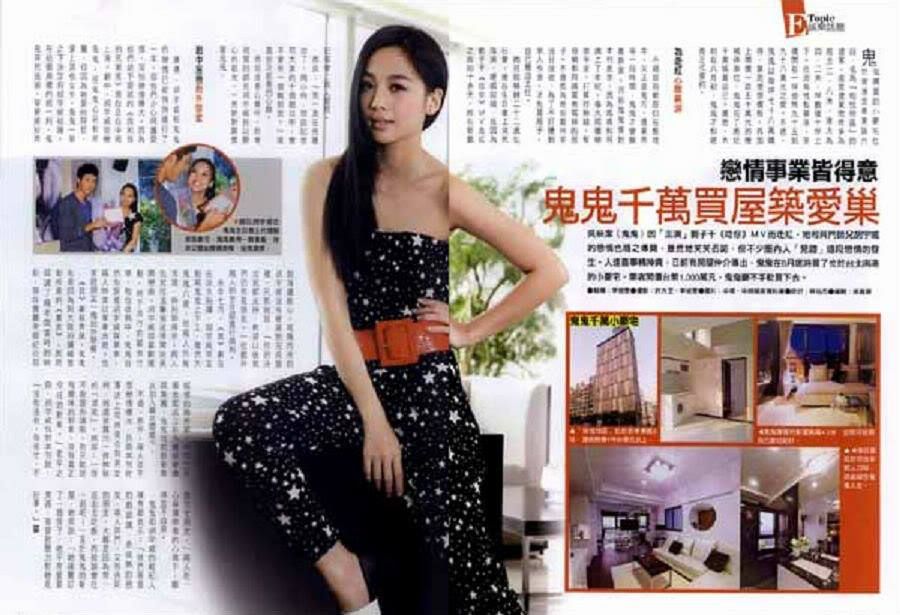 This image has been resized to fit in the page. Click to enlarge.
戀情事業皆得意 鬼鬼千萬買屋筑愛巢
●報導:李筱雯●攝影:許方正、李筱雯●圖片:中視、中時報系資料庫●設計:林私杰●編輯:張富杰
吳映潔(鬼鬼)因「主演」劉子千《念你》MV而走紅,她和同門師兄胡宇威的戀情也隨之傳開,雖然她笑笑否認,但不少圈內人「見証」這段戀情的發生。人逢喜
事精神爽,日前有房屋仲介傳出,鬼鬼在8月底時買了位於台北南港的小豪宅。業者開價台幣1,000萬元,鬼鬼豪不手軟買下去。
鬼鬼購買的小豪宅位於南港忠孝東路六段,名為「柏悅特區」的建案,這套建案物件多為前方二.八米,后方為四.二米,坪數僅十坪上下。但因為地點關系,房價開在一坪台
幣九十五到九十八萬元之間。不過,鬼鬼以每坪七十八萬購得,算是理想價格。再加上開價一百五十萬元的機械停車位,鬼鬼花了將近千萬犒賞自己。據悉,大約在八月初,鬼鬼才和建商正式簽約。
為翻紅心酸飆淚不過目前新居仍在整理中,又正值鬼月,還要再等一段時間,鬼鬼才會搬進新家。日前鬼鬼曾對本刊表示,因為媽媽和阿姨上了年紀,每天爬樓梯很辛苦,打算存夠錢,幫母親和阿姨買有電梯的房子。不過因為她拍戲時常沒日沒夜,為了不打擾到家人作息,才先買房子,自己搬出去住。
她日前舉辦二十二歲生日會,她在生日會上突然落淚,哽咽說道,在因為劉子千《念你》MV走紅之前的十多天,她在新戲記者會上無人聞問。她說:「我一直在旁邊
坐了、兩小時,想說記者問大家的十個題目中,會不會有一個輪到我。」道盡坐冷板凳的心酸。她說這番心聲時,到場祝賀的師兄胡宇威投以關心的眼光,一旁默默
關懷著鬼鬼。
戲中苦戀戲外甜蜜據傳,胡宇威和鬼鬼的戀情已經悄悄進行了一年,但他們小心呵護愛情,深怕戀情曝光。而為他們結下愛苗的《我和我的兄弟恩》現在正在中視上演。劇中,胡宇威苦戀鬼鬼,但鬼鬼心另有所屬,但因為她愛的阿哲,愛上其他女生,鬼鬼一氣之下決定和胡宇威結婚。
在結婚典禮的前一刻,鬼鬼突然逃婚,穿著婚紗奔到海邊散心。尾隨而來的胡宇威沒有硬逼她完成婚禮,隻對她說:「你的決定我都支持,希望以后我們仍然是朋友。」但戲外兩人的交往卻進行順利。
去年七月,《我》劇在在淡水拍攝,胡宇威常主動載鬼鬼上下工,雖然大鬼鬼八歲,但兩人性格活潑,特別聊得來。兩人也就從溫馨接送情開始,正式展開戀曲。胡宇
威很喜歡運動,時下流行的騎自行車,他也很熱中,鬼鬼自然也跟著胡宇威踩單車,兩人時常以單車出游。也常跟朋友一塊出外聚餐。
《我》劇殺青后,鬼鬼先是因為到大陸拍攝楊登魁投資的《畫皮》,因而認識了楊老板當時的特助,現在寶麗來經紀公司經理的陳秀卿。今年三月楊老板成立柏合麗娛樂傳媒集團,鬼鬼也就跟著男友加入楊老板麾下。
不過,對外,兩人並不想戀情曝光,日前本刊在專訪上問她是否有男友時,她還曾露出一抹神秘的「淺笑」,她說:「我不能跟你講啦,我隻能說有曖昧的對象,沒有
真正交往的對象。」更早之前,胡宇威也對本刊說:「沒有沒有,我很忙,不敢交女朋友。」兩人在一心保護戀情的心情下,顯得言不由衷。
鬼鬼和胡宇威的經紀人陳秀卿表示:「他們兩個拍戲認識,是很熟的朋友,兩人同門、又有共同的朋友。大概是因為常一起出去吃飯,而被誤會在一起吧!」至於鬼鬼的新屋,她笑說:「她確實訂了一個房子,她平常愛買東西,有貸款壓力對她是好事。」
Love and Work both successful. Gui Gui buys a 10 million TWD Love home (Approx.$300,000 USD)

Because of filming Liu Zhi Chian's <<Nian Ni>> mv Wu Ying Jie (Gui Gui) became famous, thus her and her company's senior George Hu's relationship got around the media, even though she smiles and denies the rumors many people from the entertainment industry have witnessed their relationship start. When someone has something happy going on there's a lot of good energy, recently real estate brokers spread that Gui Gui at then end of August bought a condo in Nan Gang, Taipei. The seller sold it for 10mil (TWD), and Gui Gui without hesitation immediately bought it.

The condo Gui Gui bought is located in Chong Hsiao Dong Lu sixth section, known as the Park Hyatt region,(then they talk about the size of the place n square footage but I don't get it). The condo itself is about $7,800,000TWD and the parkng space was about $1,500,000TWD so all together is about 10mil(TWD). It's reported that in August she officially signed the contract.

Due to her sudden turn over in popularity she felt sad and cried but her new home is still in renovations, and it's ghost month so she still has to wait awhile before she can move into the new home.

Recently Gui Gui told the newspaper because her mother and aunt or older now everyday they have to hike up the stairs which is very tiring, so she wants to save up enough money to buy them a house that has an elevator. But because often she has no day or night when filming, so she bought the house to move out first so she doesn't bother them resting.

Recently she had a 22nd yr old birthday party, and at the partly she suddenly started crying and sobbing that before the release of the music video about 10 days at the Love recipe Press Conference none of the reporters paid attention to her. She sat there for 2 hrs thinking out of the 10 questions would the reporters mention/ask her anything at all. Mentioning this sad memory at the party was her senior George hu who gave her a concerned gaze silently caring for Gui Gui. In the drama she painly loves someone else but outside of the drama she's very happy, according to rumors George Hu and Gui Gui's relationship has already started undergroud for a year now, but they carefully protects their relationship, afraid that their relationship will be exposed.

The drama where their relationship started <<Me and My Brother, En>> was currently broadcasted in CTV. In the drama George Hu is in love with Gui Gui but Gui Gui loves someone else. The guy that Gui Gui loves goes after another girl because of this Gui Gui got pissed and decided to marry George Hu. Right before the wedding Gui Gui suddenly ran away, wearing a wedding gown she fled to the beach to think. After George Hu finds her at the beach he did not make her finish the wedding ceremony, he only said to her "No matter what your decision is I will support it, I just hope we can still be friends." But outside the drama their relationship is going very smoothly.

Last year <<Me and My Brother, En>> was filmed in Dan Shui, George Hu constantly drives Gui Gui home and to the film set, even though George is older that Gui Gui 8 years they are both very lively people and especially have things to talk about. The two started due to the sweet picking up and dropping off set and officially started dating. George Hu loves to do sports, currently riding bikes is very popular and George loves to go biking, thus Gui Gui goes along. They often go biking together. And constantly goes out with friends together to eat.

After <<Me and My Brother, En>> finished filming Gui Gui went to mainland China to film <<Painted Skin>> which was produced by Yang Deng Kui and therefore met his personal assisstant and Polyland Internation Entertainment's manager Chen Xiu Qing. And following her boyfriend signed into Polyland. However, to others they do not want their relationship exposed. Recently when we interviewed her and asked her if she had a boyfriend she gave a sly smile and said "I can't tell you, I can only say there is someone but nothing official." Previously we interviewed George Hu and he said "No No! I'm too busy I don't dare to have a girlfriend right now. Because of trying to not expose their relationship the two seem to be saying things that are not like what it seems. Gui Gui and George Hu's manager Chen Xiu Qing says "the two know each other from filming and are very good friends, the two are in the same company and have some of the same friends. Probably because they often go out to eat together so is mistaken by others that they are dating." As to the new house Gui Gui's manager explains that "she decided to buy it. She always loves to buy stuff so the pressure of paying the mortgage loan is a good thing."
so after the softly piggy back the stroll down the edge of the waves hitting softly at the sands together....
the moments dont stay sweet forever
:D
so after sweet moment are u girls ready???
GG was asked by a fan on how she felt about her Oppa .... "Oppa is a very caringly thoughtful and attentive man"  
Here are some instances of his "Tender Loving Care" for GG
 .....